le bonheur il n'existe pas si on ne se le fabrique pas
You make your happiness exist
- tout le monde a des formes d'intelligence et des formes de stupidités profondes. C'est donc débile de ne pas respecter a priori autrui, il est forcément en quelque chose meilleur que nous.
We all are intelligent for something and very stupid for another. We are not allowed not to respect somebody : he is necessarily in something better than we are.
- si quelque chose vous déplaît , demandez-vous si vous auriez préféré le contraire. If you do not like something,just ask yourself if you would prefer the contrary.
- il n'y a pas plus dur métier que celui de parent. No job his harder than the job of parent.
et vous, avez-vous une recette de bonheur à nous confier ? Do you have your own recipe for happiness ?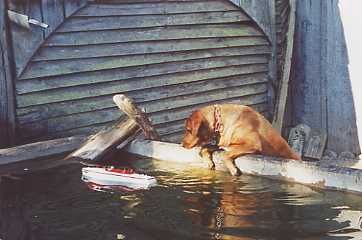 Voilà Maureen, la chienne de Bill .
pourquoi naître si c'est pour mourir ? pourquoi la plupart de nos compagnons animaux vivent-ils bien moins longtemps que nous ?
Why do our companions live shorter than we do ?

images animées et musique de Kitty