pas facile mais pas le choix
William , 14 ans , est IMC, infirme moteur cérébral. William was born 14 years ago, two months prematured.
Avant, William était dans des établissements spécialisés parce que les écoles de notre commune ne voulaient pas de nous. Il partait tôt, à des dizaines de km, rentrait tard. Before, Bill went to specialised institutes because the schools of our town did not want us. He had to go very far away from home, he was leaving early and coming back late.
When a child is able to study like the others it is less expensiv to hire someone to give him a hand than to send him in an institute. And why put him apart ? Are we sure we won't be tomorrow in a wheelchair ?
Ca coûte bien moins cher à la communauté de rémunérer un emploi " d'aide éducateur " par infirme, que de payer des milliers de FF par jour d'établissement spécialisé + long transport en VSL ou taxi. De plus pourquoi parquer les handicapés à part, accroître leur malheur d'être différent ? Ainsi nous nous nuisons à nous-même. En effet, si nous sommes habitués à cotoyer le handicap, le jour, toujours possible, où nous nous retrouverons en fauteuil, nous nous sentirons moins exclus de la vie .
Très grand merci au collège Georges Brassens de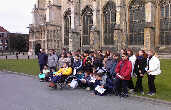 Santeny et à l'école primaire Charles de Gaulle de Mandres-les-roses . Ci-dessus la classe de Bill visitant, au printemps 2000, Canterbury.
We thank the school Georges Brassens of Santeny and Charles de Gaulle of Mandres, first regular schools to accept William. He is a nice friend for the others and a good pupil.
On the picture Bill and his class visiting Canterbury in March 20.
William a subi 3 interventions chirurgicales les 7 , 14 , 21 avril . Après des mois de rééducation en internat, il remarche avec des cannes mais c'est dur. Vous pouvez lui écrire pour l'encourager ou lui poser des questions.
Bill had surgery on April 7th, 14th, 21st and after that months far away from home for intensive reeducation. He can walk again with canes but very few and slow. E-mail him to encourage him.